For over 20 years, the Acton Institute's Rome office has had a number of extremely impressive academic fellows come through their prestigious scholarship programs promoted to graduate students of pontifical universities. Assisting students studying theology, moral philosophy, and social sciences, Acton's grants and awards program is now paying huge dividends. Its alumni are now serving in highly leveraged positions across all continents as diocesan pastors, international missionaries, development economists, university professors, and episcopal advisers. This interview is the first of several to follow that will highlight the whereabouts and continued journeys of Acton scholars after leaving Rome.
I caught up with our latest Rome-scholar success story, a Venezuelan priest and Calihan fellow in dogmatic theology at the Pontifical Lateran University (aka the "pope's college"), Fr. Alberto Marquez.
At the oppressive height of COVID-19 lockdowns in Rome, a determined Marquez carried on and "virtually" defended his unique doctoral thesis on the "economic Trinity" while receiving the highest academic honors. He was subsequently called back to his native Valencia to serve as the new rector of the Archdiocese Seminary Nuestra Señora del Socorro. He is considered a protégé of the recently deceased cardinal Jorge Urosa, the former Catholic primate of Venezuela who "took no prisoners" with his damning criticisms of "21st-century socialism." Marquez says Urosa, who was as charming and dapper as he was lionhearted (a "sort of James Bond–like" character), was a real father figure who mentored him to become an unwavering advocate of the entrepreneurial free market and the authentic vocations of businesspeople, as well as a constant defender of restoring fundamental natural rights and freedoms in a nation that is now the most impoverished in all of South America.
Marquez said he was both "surprised and humbled" by his appointment to lead one of Venezuela's largest seminaries. His dream was to become a university professor but instead finds himself walking down a different, perhaps much thornier, path as religious freedom becomes ever more threatened. During his first week back in Venezuela and first days as rector, Marquez answered some serious questions about his nation's current state of affairs.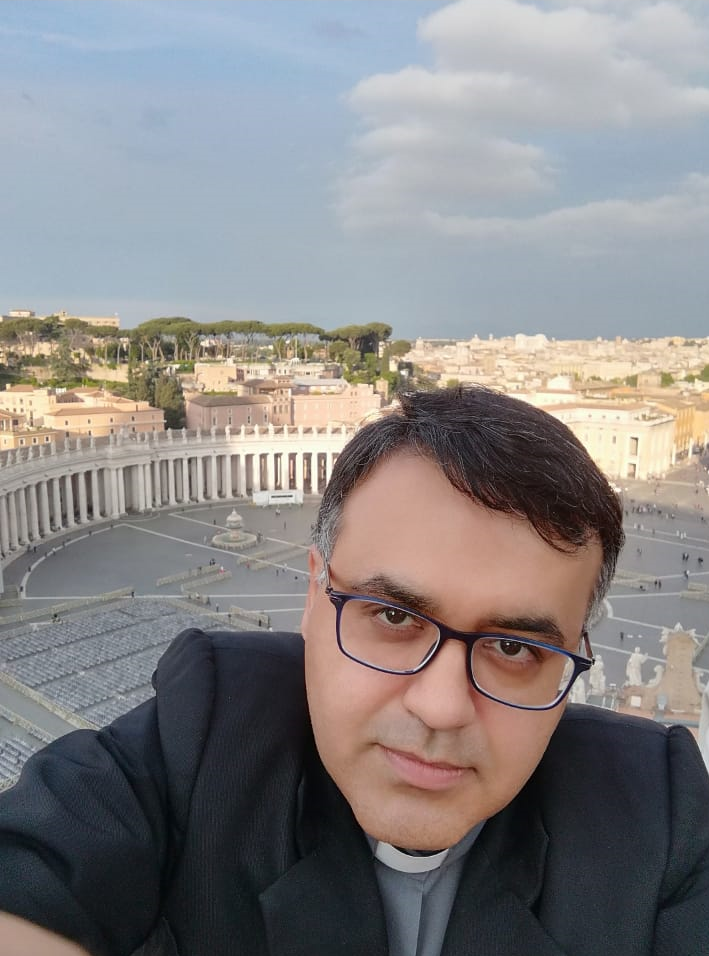 What was your first impression of Venezuela, economically and socially speaking, after spending seven years away in Rome for your studies in dogmatic theology?
The impression I got was a feeling of contrast: on the one hand, seeing people with faces showing deterioration or physical wear and tear due to malnutrition; and on the other, seeing the emergence of an exorbitant amount of businesses with a whole host of products but at a price in U.S. dollars and much more expensive than in Europe. I must say the economic law of supply and demand does not apply in Venezuela. Something strange is happening.
I am seeing a lot of new businesses, but their owners are Middle Eastern. People talk about them being the "front men" of our local economies, about them laundering dollars. Here is a very small example. Bakeries that I knew seven years ago owned by Italians, Portuguese, or Spaniards are now in the hands of Middle Eastern businessmen. … You have to wonder how and why so many come here to do business.
What specifically in Venezuela has gotten worse since you left?
Health care, no doubt. Hospitals and clinics are totally run down. There is no guarantee at all of decent medical attention. Everything depends on a stroke of luck. Government workers are the only ones with any such guarantee.
Has Venezuela improved in terms of people's participation in the Faith? Or are the people losing faith in God because of the worsening social, economic, and political climate?
Numbers of faithful participating at masses have actually increased, except, of course, during this period of the global pandemic crisis. The offerings of Church-based institutions to help people during this particular time of crisis have actually worked in favor of the Church's credibility, especially in the eyes of faithful. So much so that right now the Church is the only institution that appears trustworthy to Venezuelans.
When you first heard the news of Cardinal Jorge Urosa's passing away last September 25 (because of COVID-19), what did you think?
The first thing I felt after Urosa's death was the sorrow that there will not be another figure like him. Someone so clear and firm among the Venezuelan episcopate. For me Urosa was the one bishop who definitely inspired me in terms of his unwavering love for the Church. I am a pastor but, comparing myself to him, I feel like the one who was being pastored to.
Wasn't he your archbishop when you were a young seminarian?
Yes, I have known him since I was a seminarian, and he authorized my early ordination. I believe that he had a great interest in us seminarians, because he always wanted to teach us, give us an example of something to follow and practice. For us he was always a mentor, even in the smallest details, like how we should dress with sobriety and dignity.
Was Urosa a real "thorn" for Maduro and Chavez, always rebuking them for their socialist regime? What did he use to say to the leaders of the socialist government?
With respect to Maduro and Chavez, Urosa always bravely expressed his views of what he considered to be their "socialist" government. Even more so, he publicly referred to them with even harder words, as "Stalinist," "Marxist," and "Communist."... He was very clear in demanding the government immediately abandon its oppressive attitudes towards Venezuelans and their natural liberties. He always insisted on the government having respect for private properties and for democratic institutions legitimately elected by the people.
Do you have any particular memory of what Urosa said that inspired you?
I remember one thing that captured my attention and that speaks volumes of his courage. It was when he was called in for eight hours of questioning before parliament because of his public remarks against communism. He came and left the hearing looking at peace with himself. He left with the very same peace and conviction in what he believed before being interrogated. Nobody, nothing, could make him change his mind.
You will soon begin your new role as rector of the Archdiocese of Valencia Seminary. Congratulations. What will you do to help form 60 or so future priests to defend free economic exchange and the paths to human flourishing, spiritually and materially, in Venezuela?
My plan is that our men acquire a clear vision of the Church at the present time and a clear Christian understanding of the dignified human person in the spirit of the tradition of the Catholic Church. I want my seminarians to realize the great value that the Church has acquired throughout her long history, especially regarding her contributions to the cultural, scientific, spiritual progress of free nations. When there's a love for the person of Jesus Christ, we also have a healthy understanding of the free human person and free society in all its integrity.
Finally, as a clergyman now in Venezuela, will you shepherd people who have had their businesses destroyed and professional vocations taken away as ever more radical socialist policies bring about a further economic depravation?
Yes, of course, and I have already done so. In my time of formation in Rome, I met with Venezuelan immigrants who had lost their professions as doctors, lawyers, and journalists because they had wanted to remain faithful to their principles of freedom and to defend the dignity of work and private property. They fought for these things as a necessary way to create progress and employment in their nation. Now that I am back in Venezuela, I wish to continue accompanying many young people who dream for a return to their civil liberties and who need the support of priests for spiritual counseling and for being formed in the Church's social doctrine. … Since the beginning of my priestly ministry, it was the late Cardinal Urosa who encouraged me to be a professor of Catholic social teaching.