What is Acton Institute all about?
Promoting a free and virtuous society
The Acton Institute is a think-tank whose mission is to promote a free and virtuous society characterized by individual liberty and sustained by religious principles.
This direction recognizes the benefits of a limited government, but also the beneficent consequences of a free market. It embraces an objective framework of moral values, but also recognizes and appreciates the subjective nature of economic value. It views justice as a duty of all to give the one his due but, more importantly, as an individual obligation to serve the common good and not just his own needs and wants. In order to promote a more profound understanding of the coming together of faith and liberty, Acton involves members of religious, business, and academic spheres in its various seminars, publications, and academic activities. It is our hope that by demonstrating the compatibility of faith, liberty, and free economic activity, religious leaders and entrepreneurs can contribute by helping to shape a society that is secure, free, and virtuous.
What We Do
Publications
The Acton Institute produces a diverse set of publications including editorials, journals, and newsletters to inform and educate readers about the relationship between individual liberty and religious principles, which promote and sustain the free and virtuous society.
Events
The Acton Institute hosts a wide array of engaging and award winning conferences, dinner events, lectures, roundtables, video screenings, and more, featuring prolific speakers and experts in the fields of economics, theology, and philosophy, among others. 
Research
Acton Research accommodates in-house and externally-based scholars from a variety of nationalities, Christian confessions, and intellectual disciplines. These disciplines include theology, philosophy, history, economics, and law. The investigations of these scholars attempt to clarify the foundations of a free, humane, and virtuous society.
... and More
In addition to publications, events, and research, Acton also produces film series, videos, engages in international outreach, translation projects, and much more!
The Acton Institute for the Study of Religion & Liberty was founded in 1990 in Grand Rapids, Michigan by Father Robert A. Sirico and Kris Alan Mauren.
The Acton Institute is named in honor of John Emerich Edward Dalberg Acton (1834-1902), 1st Baron Acton of Aldenham and the historian of freedom. Known as "the magistrate of history," Lord Acton was one of the great personalities of the nineteenth century. Widely considered one of the most learned Englishmen of his time, Lord Acton made the history of liberty his life's work.
The most notable conclusion of Acton's work is that political liberty is the essential condition and guardian of religious liberty. He thereby points to the union of faith and liberty, which has been the inspiration for the mission of the Acton Institute. Father Sirico sums up the Institute's purpose: "Acton realized that economic freedom is essential to creating an environment in which religious freedom can flourish. But he also knew that the market can function only when people behave morally. So faith and freedom must go hand in hand. As he put it, 'Liberty is the condition which makes it easy for conscience to govern'".
The Acton Institute consistently ranks among the top think tanks in the world.
The University of Pennsylvania's Think Tanks and Civil Societies Program (TTCSP) maintains comprehensive data on more than 6,500 think tanks worldwide. Of those more than half are considered in the ranking, but fewer than 300 organizations make it into the final report. In recent years, the Acton Institute has consistently placed among the top think tanks worldwide.
The 2020 University of Pennsylvania report ranked Acton as such:
18th of 120 in the Top Social Policy Think Tanks ranking
35th of 110 in the Top Think Tanks in the United States
156th of 174 in Top Think Tanks Worldwide 
8th out of 92 in Best Advocacy Campaign
21st out of 65 in Best Think Tank Conference for Acton University
Read more about Acton's rankings in the 2020 University of Pennsylvania report here.
The Acton Institute is a 501c3 tax exempt organization. Over 80% of our funding comes from the generous contributions of individual Acton supporters.
Over 80% of our funding comes through tax-deductible contributions of individual Acton supporters. We also receive support from foundations, corporations, and from the sale of our many materials – books, publications and learning curricula.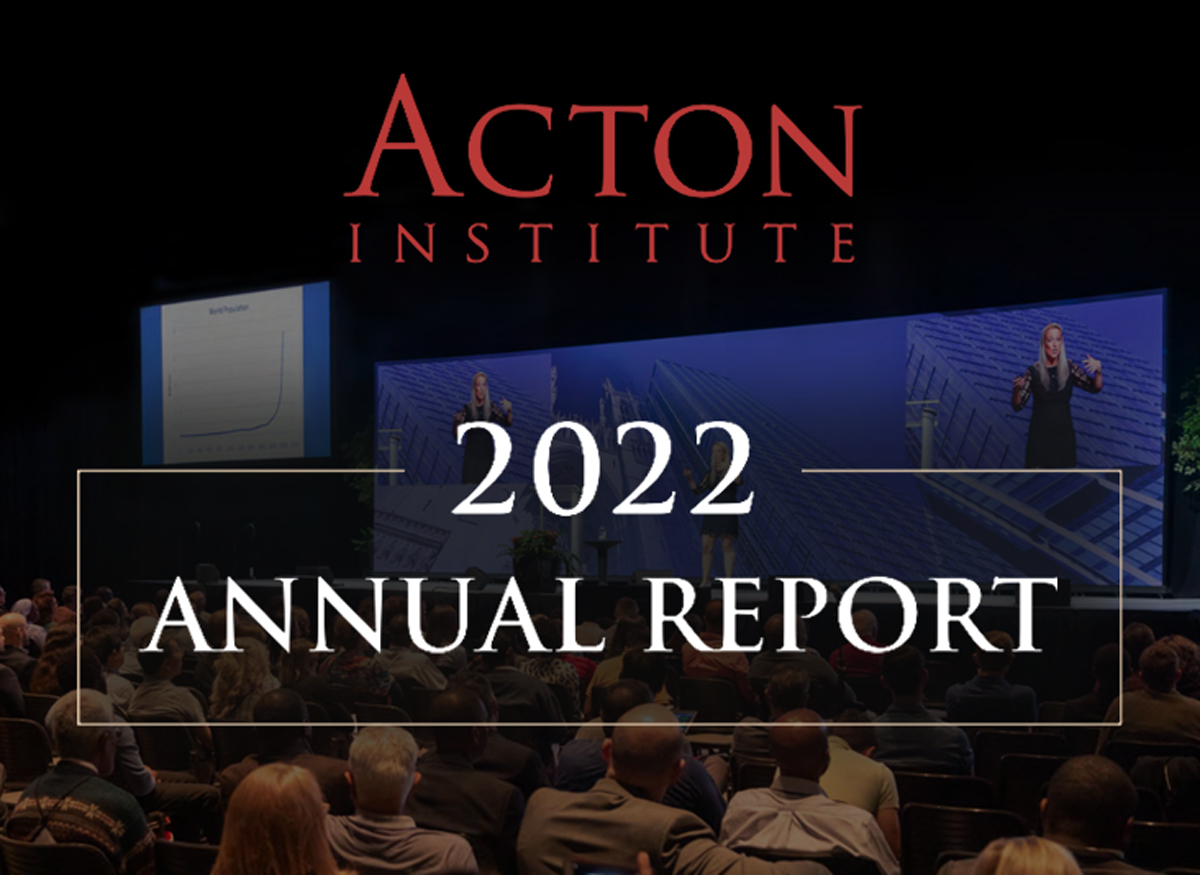 Our Mission is Simple

We want everyone to understand the foundational ideas that lead to a free and virtuous society.
We do this through promoting our unique synthesis of faith and economics, and we focus our efforts on reaching influential leaders in academia, business, and faith communities.
We are only able to do this thanks to our generous and faithful supporters.
250+
Published
OP-EDS & ARTICLES