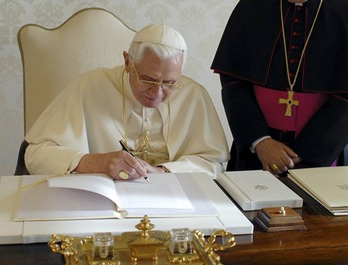 Why Truth Matters
In his new social encyclical, Caritas in Veritate, Pope Benedict XVI has strongly reaffirmed and deepened the connection between morality and the free economy. Benedict has repudiated practices that led to a global economic crisis in which the love of truth has been abandoned in favor of a crude materialism.
This resource page provides news and analysis on the first new social encyclical issued by the Vatican in nearly 20 years. New content on the encyclical is also available on the Acton Institute PowerBlog.
---
Jennifer Roback Morse offers an introduction to Pope Benedict's Caritas in Veritate encyclical and reminds us that we are not dealing with a technocrat or ideologue. "He knows where the truth is to be found," she writes. "The Truth is a person: Jesus Christ." Read More...
---
Caritas in Veritate is an eloquent restatement of old truths casually dismissed in modern times. The pope is pointing to a path neglected in all the talk of economic stimulus, namely a global embrace of truth-filled charity. Read More...
---
As one would expect with an encyclical from Benedict XVI, its strength lies in its use of theology to re-orientate Catholics and other Christians away from thinking in a merely secular — and sometimes hyper-politicized way — about questions such as economic and political questions. Read More...
---
The economic inequality between the northern and southern hemispheres of the globe is becoming more and more an inner threat to the cohesion of the human family... In fact, the misery in the world has increased in shocking measure during the last thirty years. In order to find solutions that will truly lead us forward, new economic ideas will be necessary. But such measures do not seem conceivable or, above all, practicable without new moral impulses. It is at this point that a dialogue between Church and economy becomes both possible and necessary. Read More...
---
As the squabbling continues over the at-times contradictory policy-suggestions contained in Benedict XVI's social encyclical, there's a risk that the deeper – and more important – theological themes of the text will be overlooked. It's also possible some of the wider implications for the Catholic Church's own self-understanding and the way it consequently approaches questions of justice will be neglected. Read More...
---
One of Pope Benedict XVI's great emphases in his new social encyclical, Caritas in Veritate, is the idea of gift. A gift is something that we have received without earning. As the Pope wisely notes, "The human being is made for gift," even though man is often "wrongly convinced that he is the sole author of himself, his life and society." Read More...
---
Relativists beware. Whether you like it or not, truth matters - even in the economy. That's the core message of Pope Benedict XVI's new social encyclical Caritas in Veritate.
For 2000 years, the Catholic Church has hammered home a trio of presently-unpopular ideas into the humus of human civilization: that there is truth; that it is not simply of the scientific variety; that it is knowable through faith and reason; and that it is not whatever you want or "feel" it to be. Throughout his entire life, Benedict XVI has underscored these themes. Read More...
---
The official release of Pope Benedict's social encyclical Caritas in Veritate took place this morning at the Holy See Press Office in Rome...It's well-known but not often publicly revealed that the presenters of an encyclical were usually close collaborators with the pope on the encyclical, so it's often worth listening to their explanations and more importantly their answers to the journalists' questions. Read More...
---
On Tuesday, Pope Benedict XVI will release his first social encyclical, Caritas in Veritate. The pre-release buzz from the Catholic Left on each of his two previous encyclicals has so far proven wrong each time, so the rule should be to wait and see what the pope will actually say. Read More...
---