The Acton Institute forms leaders to build a free and virtuous society. If that mission is appealing, you have come to the right place. 
At the Acton Institute we equip leaders with the intellectual tools they need to change their institutions and, ultimately, the greater society. We strive to be good stewards of your gift with incredible care and consideration. 
Our team ensures that every dollar is used to help reach more leaders through robust educational programs and toolkits that help them change their communities—regardless of the obstacles. 
Every penny counts. All gifts have an impact, great or small, because every dollar is stewarded with care and purpose. At Acton we're grateful for the lasting impact our generous donors have on our programs. 
Who Is Acton Funded by? 
The Acton Institute is funded by private foundations, corporations, and individual donors. We are not funded by government entities or political groups. 
With this support we work together to reach more people, both domestically and abroad, with the intellectual tools they need to change their communities. 
How do we use each dollar donated?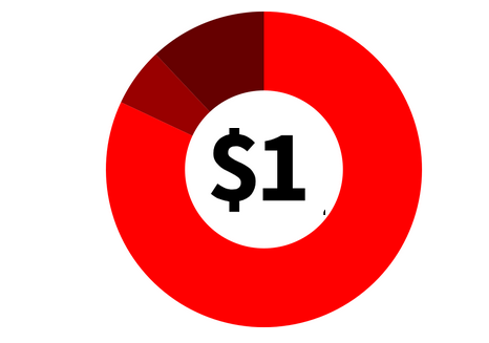 - 78¢ goes directly to program expenditure.
- 10¢ is spent on Acton's accountability and administration.
- 12¢ covers the essential costs of fundraising to generate support for Acton's work. 
There are Christian religious leaders who believe that American prosperity is a shameful thing and that our free economy is a source of evil and oppression. [At Acton] we defend the free-market system as a crucial part of what allows for a society that is virtuous and moral."

- Rev. Robert A. Sirico, President Emeritus, Acton Institute
How do your donations make a difference when needed the most?
Over the past five years, the generosity of our donors has provided the Acton Institute with much-needed support. Their contributions have helped us:
Create and launch the Poverty Cure Center, capitalizing on our highly successful educational programs, the Poverty Cure series and the Poverty, Inc. documentary—as well as our Poverty Cure Summit. We have greatly expanded our poverty-fighting efforts!
Establish the Collins Center to promote a free and virtuous society to people from different faiths around the world. 
Host five Acton Universities, both in person and online, that featured 10,566 participants out of 13,735 applicants from around the world, for a total of 81 countries represented. 
Train 75 new Emerging Leaders to carry the principles of a free and virtuous society into their schools and community. 
Invite business and spiritual leaders to engage in civil discourse on matters of great importance for a free and virtuous society. 
These are not merely statistics. Every donated dollar has been important to our programs and our mission. Clearly, there's still a huge amount of work to be done. We're doing everything we can to make sure voices are heard and needs are met. 
Meet one of our generous supporters
—Chris Avery! 
Mrs. Avery has been a longtime supporter of the Acton Institute, and this is what she had to say about her years of dedication to Acton: 
Who can argue with a free and virtuous society? To be part of something positive in a world that is so negative is good for your soul. Acton is something I always wished for, something I have always wanted to get involved in. When I attend an Acton event, it feels like auditing a class—sitting and learning something great. Our relationship with Acton started when we first met Father Sirico—most memorably, when he baptized our son 33 years ago, and then when our daughter began interning at Acton when she was a freshman in college. Back then, I was a working mother and not too focused on anything that did not involve our immediate family. My husband, bless his soul, was very much aware of what was going on in the life of the Acton Institute. A few years ago, he got the idea that Acton needed a volunteer corps. The idea was to get more Acton supporters engaged and involved with Acton. He cultivated a group of people who were believers, supporters, and willing to help Acton host some of their major events, such as Acton University. He was the first person in charge of that initiative, and that was great for Acton. The first class of the volunteer corps became class monitors at Acton University, and it was such a great experience. Since the volunteer business has been underway, there's been a great feeling of worthwhile investment—and I love it!
Here's How You Can Help
Through palpable results, stories, and our robust multimedia resources, including our growing podcasts Acton Line and Acton Unwind, we continue to reach millions of people. Meanwhile, Poverty, Inc., our award-winning documentary, continues to be shown in classrooms throughout the world.
This is only possible, however, with your support.
As a nonprofit, we rely on your financial support. We are committed to investing in more programs and future leaders, but we need your help.
>>> Donate Today to Ensure We Can Continue to Train Future Leaders for Free