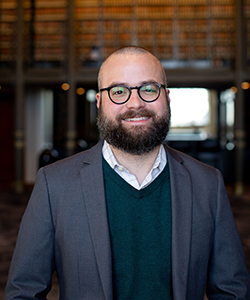 Eric Kohn has been named Director of Communications at the Acton Institute. Kohn, who serves as Director of Community Management at the Illinois Policy Institute, begins his work at Acton on January 1, 2020.
"The Acton Institute's mission is unique and critical at our current moment in human existence, both nationally and globally," Kohn said.  "I'm excited to be joining an extraordinary team working every day to connect more people with Acton's vision for a free and virtuous society that promotes individual liberty, economic freedom and the inherent dignity of every person – ultimately leading to the flourishing of the human spirit".
As the Director of Communications, Eric Kohn will oversee communications, marketing, public relations and media strategy for the Acton Institute. Acton's Executive Director and co-founder Kris Alan Mauren said, "I am very pleased to welcome Eric to Acton Institute.  His professional skills honed at one of America's finest state-based think tanks, long-standing commitment to the ideas of a free and virtuous society, and enthusiasm for leading Acton's communication strategy will help position Acton Institute for continued educational leadership globally long into the future."
Stephen P. Barrows, Acton's Managing Director of Programs adds, "I am delighted that Eric Kohn is joining the Acton team as our new Director of Communications.  Eric's wealth of experience and innovative ideas for promoting a free and virtuous society are huge assets for advancing our mission."
Eric joined the Illinois Policy Institute (IPI), as Marketing Manager in 2016, and most recently held the post of Director of Community Management. In this role he has worked to facilitate conversation, increase engagement, and drive advocacy within the Institute's digital community.
Matthew Paprocki, President of the Illinois Policy Institute stated, "Our entire team is to credit for work toward fulfilling the mission of Illinois Policy Institute, and nowhere is that more apparent than with Eric Kohn. Marketing is, essentially, the ability to connect with people, and Eric Kohn has helped to connect with hundreds of thousands of Illinoisans with free markets. We are grateful for the contributions Eric has made towards our goals, and look forward to the impact he will have with the essential mission of Acton."
Prior to IPI, Eric was founder and CEO of Curious Task Strategies, a consulting firm specializing in public affairs and digital marketing primarily serving the non-profit sector.  For most of the last decade Eric has led the Chicago chapter of America's Future Foundation, an organization dedicated to developing the next generation of classical liberal leaders in Chicago. The Chicago chapter was recognized by AFF as Chapter of the Year in 2018.
Eric co-hosts the radio program Sources with Knowledge on 560-AM, The Answer in Chicago, also available on all podcast feeds. He previously hosted The Eric Kohn Program on 1530-AM WJJG, and has guest-hosted the nationally syndicated The Guy Benson Show, Illinois Watchdog Radio on Cities 92.9FM in Bloomington-Normal and Chicago's Morning Answer on 560-AM WIND. He has appeared as a commentator on the nationally syndicated program Beyond the Beltway, Extension 720 with Milt Rosenberg, The Michael Koolidge Show, WTTW's Chicago Tonight and numerous news broadcasts in the Chicagoland area. Eric's writings have appeared in the Chicago Sun-Times, the Belleville News-Democrat, the Madison/St. Clair Record and other publications.
Eric grew up in Belleville, Ill., and is a graduate of Millikin University in Decatur, Ill.